>>> VINYL SOUNDTRACK NOW AVAILABLE TO PRE-ORDER <<<
THEATRICAL SCREENINGS
NOW ANNOUNCED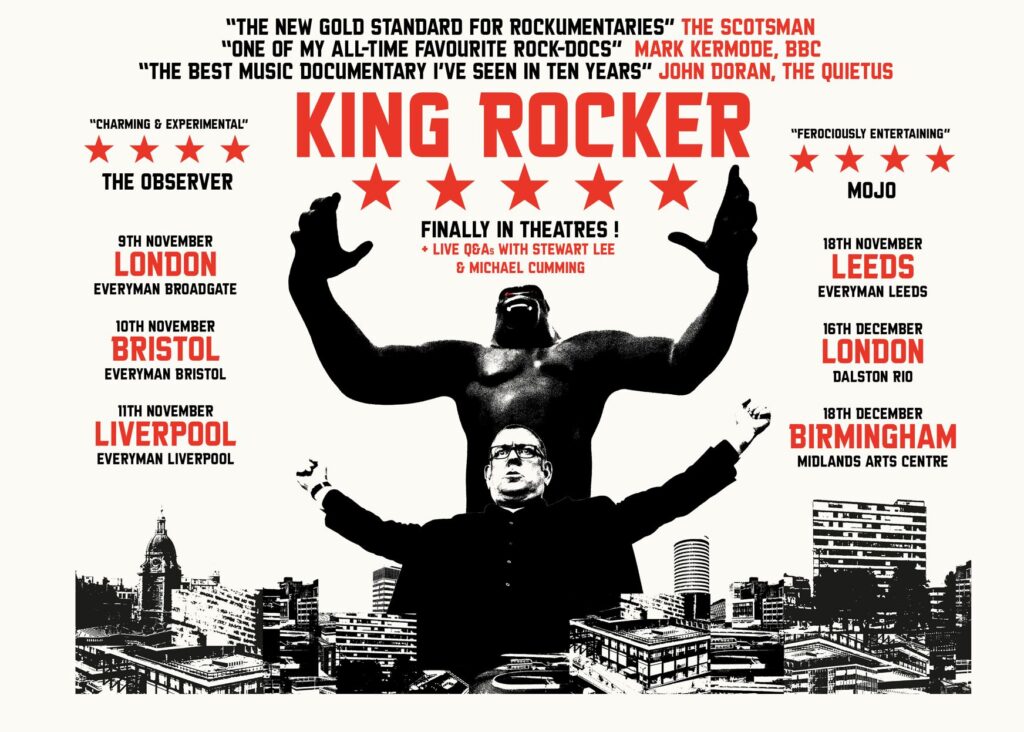 Get your tickets for the KING ROCKER roadshow !
First time theatrical run + live Q&As with Michael Cumming & Stewart Lee
9th Nov: Everyman Broadgate, London
10th Nov: Everyman Bristol, Bristol
11th Nov: Everyman Liverpool, Liverpool
18th Nov: Everyman Leeds, Leeds
16th Dec: Deeper Into Movies Presents, Dalston Rio, London
18th Dec: Christmas Party, Midlands Arts Centre, Birmingham
---
---
The Sky Arts premiere went off with a bang! We've been overwhelmed by the reaction from the media and fans alike and, again, we simply could not have done this without your support. The film is now available on the Sky Go and Now TV platforms. If you are not a subscriber then there is a 7 Day Trial available.
---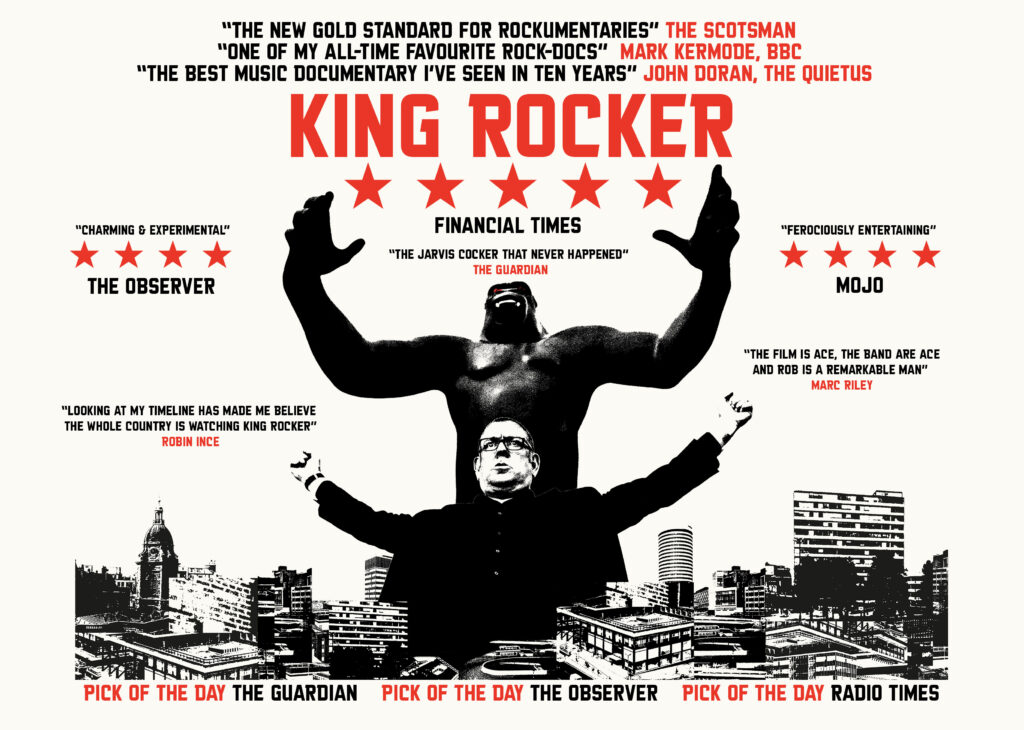 Comedian Stewart Lee and director Michael Cumming (Brass Eye, Toast of London), investigate a missing piece of punk history: Robert Lloyd, best known for fronting cult Birmingham bands The Prefects and The Nightingales, has survived under the radar for over four decades.
But how, if at all, does Robert want to be remembered? The anti-rockumentary King Rocker weaves the story of Birmingham's undervalued underdog autodidact into that of the city's forgotten public sculpture of King Kong, eschewing the celebrity interview and archive-raid approach for a free-associating bricolage of Indian food, bewildered chefs, vegetable gardening, prescription medicines, pop stardom and pop art.
Featuring: John Peel, Frank Skinner, Nigel Slater, Robin Askwith, Samira Ahmed, Gina Birch, Marc Riley, Danny Fields, John Taylor, Paul Morley, Fuzzbox, Kevin Eldon, Nish Kumar, Bridget Christie, Andrew O'Neill, Seann Walsh, Paul Putner, Steve Beresford and more
---
Running Time: 90 Minutes

Director: Michael Cumming
Brass Eye, Oxide Ghosts, Toast Of London

Writer: Stewart Lee
Stewart Lee's Comedy Vehicle

Producer: James Nicholls
The Chills: The Triumph and Tragedy of Martin Phillipps, The Ballad Of Shirley Collins, Fire Records
---
TRAILER
---
OFFICIAL POSTER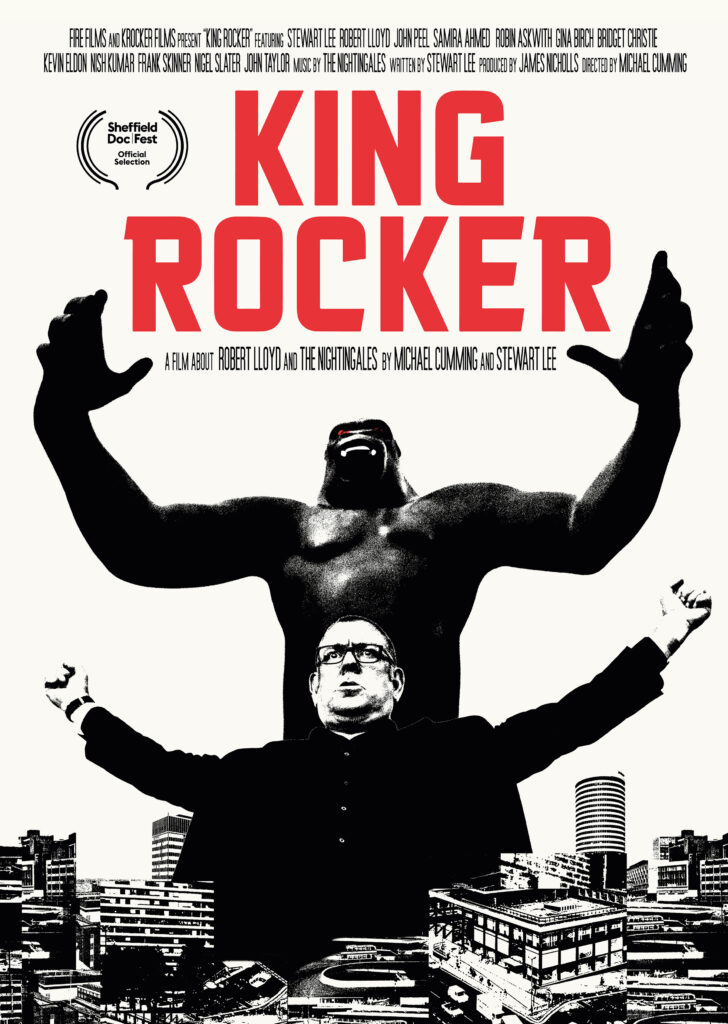 REACTION
"Rapidly shaping up as one of my all-time favourite rock-docs"
Mark Kermode
"it's got great charm, it's a lovely film", "it's just a great human story about the narrative arch of someone's life", "it's warm, it's funny, it's fascinating"
Radcliffe & Maconie
BBC 6 Music
"Looking at my timeline has made me believe the whole country is watching King Rocker"
Robin Ince
"The film is ace, the band are ace and Rob is a remarkable man"
Marc Riley
"It's a wonderful homage to and a portrait of a true outsider artist, and an inspiring comeback story that in the already boiling maelstrom of 2021 feels profoundly necessary."
The Quietus
"King Rocker finds beauty, heroism and even a whiff of transcendence in the most unlikely places. I loved it"
Mark Kermode
BBC News
"Unsurprisingly hilarious"
David Baddiel
"The Jarvis Cocker that never happened"
The Guardian
Pick Of The Day
"Ferociously Entertaining"
MOJO
(Voted #2 Film Of The Year)
"Lloyds chemistry with Lee is the cornerstone of its charm"
Radio Times
"A charming and experimental documentary"
The Observer
Pick Of The Day
"charming, amusing and creatively inspiring documentary"
Chortle
"Lee tells Lloyds story with skill, passion and verve"
The Times
"The best music documentary I've seen in ten years… I absolutely love King Rocker"
John Doran, The Quietus
"A beautiful and fucking hilarious and moving film"
Shaun Keaveny, BBC 6